Offset printing corrugated box in bakrol Gujarat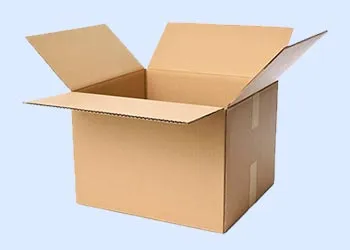 Product description :
An offset printing corrugated box manufacturer produces corrugated boxes using offset printing technology. These boxes are made from corrugated board, which is made up of three layers: an outer liner, a fluted layer (also known as the corrugate), and an inner liner. The offset printing process involves using a printing plate to transfer ink onto the surface of the corrugated board, creating high-quality, detailed images and text on the boxes. These boxes are commonly used in packaging, shipping, and storage of various products.
Product detail :
Offset printing is a type of printing technique that uses plates to transfer an image onto a substrate, such as paper or cardboard. Corrugated boxes are boxes made from corrugated paper, which is a material made up of three layers: a wavy inner layer (the corrugate) sandwiched between two flat outer layers.
A manufacturer of offset printed corrugated boxes would use offset printing technology to print designs, images, and text onto the surface of corrugated boxes. These boxes can be used for a variety of purposes, such as packaging and shipping products, storing items, and displaying products for sale. The manufacturer may offer a wide range of customization options, such as different box sizes and shapes, printing on different parts of the box, and the use of different colors and inks.
Advantages of Customized packaging box :
High quality and consistency : Offset printing technology allows for precise and consistent printing of images and text on corrugated boxes. This ensures that each box looks professional and uniform.
Cost-effective : Cost-effective: Offset printing is a cost-effective method for producing large quantities of corrugated boxes. The cost per box decreases as the quantity increases, making it ideal for large scale manufacturing.
Versatility : Offset printing can be used to print on a wide range of materials including paper, cardboard, and plastic. This means that corrugated box manufacturers can produce boxes in a variety of sizes, shapes, and designs.
Customizable : Offset printing allows for the creation of custom designs and logos, making it easy for manufacturers to create unique and personalized corrugated boxes.
Environmentally friendly : Offset printing is a low-emission printing process, making it a more environmentally friendly option compared to other printing methods. This can be an important consideration for companies that want to promote an environmentally friendly image.
Usage of Customized packaging boxes :
Packaging : Offset printed corrugated boxes are commonly used to package and ship products. They are ideal for protecting fragile items during transport and can be customized to fit the specific dimensions of the products being shipped.
Branding : Offset printing allows for full-color graphics and text to be added to the boxes, making them ideal for branding and marketing purposes. Companies can use these boxes to promote their products and services, and to increase brand awareness.
Retail packaging : Offset printed corrugated boxes are often used for retail packaging. They can be used to package products for sale in stores, and can be customized to include product information and pricing.
Display packaging : Offset printed corrugated boxes can also be used for display packaging. They can be designed to be used as a display stand for products, and can be used to create an eye-catching display in a store or at a trade show.
"you're looking to Himalaya packaging product or a whole line of products, our Offset printing corrugated box manufacturer can help you create a solution that is both functional and visually appealing. Contact us today to learn more about our services and to get started on your custom packaging project"